7 Best Ways to Organise a Closet

How best to declutter your wardrobe
Do you get up in the morning, running late for work, and find yourself fluttering over what to wear? And this is not the worst! You have a vague idea about how you should look and what you can put on but the garment is nowhere to be found. Is it in the washer? Or maybe, it's hidden somewhere in the wardrobe, filled to the brim with all sorts of stuff among clothes?
Easy-to-follow Steps for Organising Your Closet
You may be blessed with living in a spacious home with plenty of storage room, a walk-in closet and a handy attic, designated for harbouring all your junk and clutter. Or maybe, you are not so fortunate and have to settle for a modest wardrobe to accommodate your belongings and daily essentials. Whatever your circumstances, when it comes to saying goodbye to chaos in the house and overspill of apparel, the same firm approach applies.
Declutter your closet, declutter your life
And feed two birds with one seed in the process. Pile your gear on one side and take the time to go through each item. Make a decision on what stays and what goes. Holding onto that garish blouse from your ex-boyfriend that you wore once two years ago is, to say the least, silly.
You can help those in need by handing in all unwanted attire to your local charity shop or if you are entrepreneurially inclined, do a couple of car boot sale runs. You may even notice that once you start you can't stop. Good on you! Clear out all items of suspicious use or ambiguous purpose from your home, not just from your closet. Let's not forget that hoarding is an illness!
Wipe clean and dust your storage area
Now that your closet is completely empty, take the opportunity to remove any cobwebs and clean the accumulated dust off shelves and drawers. There is nothing worse than trying to organise a closet, which has not been first properly vacuumed and polished.
You may be resorting now and again to a professional one-off cleaning service to help you with the spring clean but it is unlikely that the hired housemaid will dare rummage through your personal belongings. So get the furniture polish and a soft cloth before you start hanging your clothes back inside.
Do you live in a one-season climate?
I guess not! Then, make sure that all those winter jumpers are neatly folded in stackable plastic boxes and put at the back and out of sight. When the right time comes, simply make them swap places with your summer gear and see-through beach tops. The same goes for sandals, flip flops and flat pumps. Just store them in a canvas box and make space for your winter boots to put on display.
Colour-code in a rainbow style
Well, this may be hard if you have an affinity for monochrome clothing or your boss simply doesn't tolerate you wearing sexy red, bright yellow or hippy orange at the office, but you get the gist. Black skirts and trousers, neatly hanged, followed by grey shirts, then, come the whites, will not only make apparel more discernable but it can give you a mental boost and the psychological feeling that your life is going on the right path.
Categorise and label if you need to
Well, this principle is self-explanatory but it can truly save you the headache of trying to find your favourite skirt when you are late for work. Put your clothes in good order by grouping items of the same category together. Labels are useful for storage boxes, bins and baskets or for shelves that accommodate similar-looking folded stacks of clothing, such as short and long-sleeved T-shirts.
Be smart & use space
The closet door is an underused vertical space that can be easily adorned with belts, ties, scarves or umbrellas, secured on easy-to-install hooks. Use shelf dividers to tame unruly heaps of long-sleeved T-shirts and tops. If you are space restricted, arrange your shoes on a tilted shelf, instead of keeping them in a bulky shoe cabinet or in boxes. A similar approach can be resorted to when it comes to all your lovely handbags. You can store them effortlessly in one of those hanging fabric organisers.
Tickle the inventor in you and be creative
Living in a tiny flat with no storage space for anything at all? Just curtain off a corner of your choice, and carefully place your formalwear, like suits or dresses behind on hangers, in neat rows, on a couple of polls, attached to the walls. To store your baseball hats or fedoras, it is not hard to make a three-tiered triangle-shaped rope shelf to hang on a hook and fit in another corner of the room. Your uncreasable gear, such as underwear, can be rolled nicely in an easy-to-access suitcase, instead of trying to find a place for a chunky chest of drawers. Use pegs to secure socks on a symmetrically slit hard cardboard of a rectangular shape that can be hung on a wardrobe door or on its sidewall. Jewellery and small nicknacks can easily go in a fruit bowl, placed inconspicuously on a top shelf.
To sum it all up, the above tips are only general principles, which you can follow. The key takeaway for you is to have fun and organise your closet in a way that is easy for you to navigate and find things. Be brave and throw stuff away! Be creative and seal your new wardrobe storage setup with your own signature!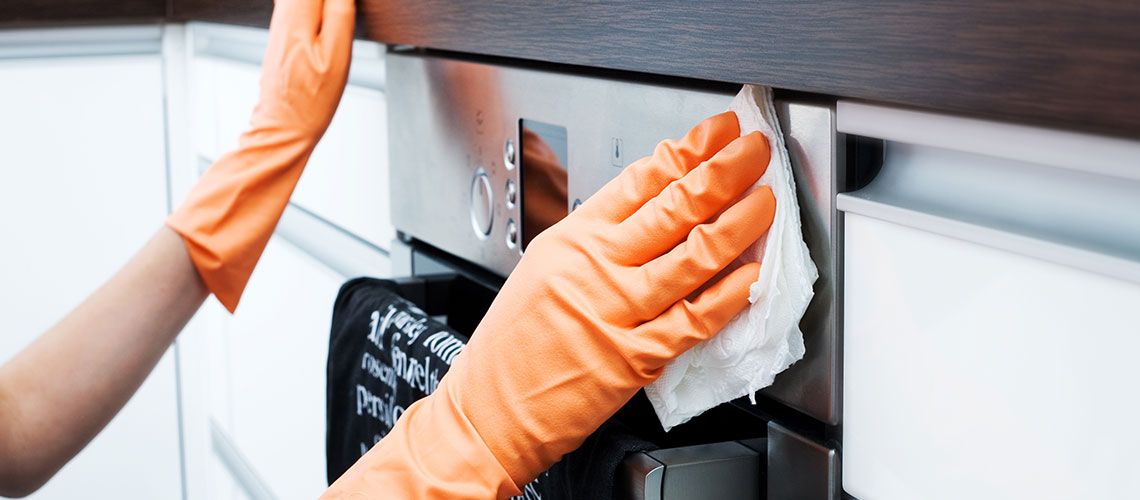 At Star Domestic Cleaners, we know that professional cleaning services in recent years are more and more of a necessity rather than a luxury.
READ

It's that time of the month again. As you slowly read your energy bill, your raise your brow higher and higher in bewilderment. Does your provider think that you run a nuclear reactor? Well, at Star Domestic Cleaners we know that there are probably a few reasons for these big numbers and today, we're going […]
READ