Cleaning a White Composite Sink – Do's and Don'ts

Composite sinks are a stylish addition that can fit in almost any kitchen. Made from a combination of quartz, granite, or other natural materials and manufactured acrylic resins, they can withstand very high temperatures and are fairly well protected against stains or scratches. But if they are so sturdy and clean, then why did your sink suddenly lose its snow white colours?
Composite sinks need regular attention in order to remain sparkling clean. If stains are not dealt with in time, they can gradually build up on your sink's porous surface, making it nearly impossible to remove the accumulated film without causing some damage. However, there are a few easy ways to avoid this from happening. Here is how to clean a white composite sink.
The right way to clean your white composite sink
When setting out to clean your composite sink, it's crucial that you let go of the "clean once, forget for about a month or two" mindset. The keyword here is consistency – the more often you take your time to clean the surfaces, the less you'll have to actually clean them. Sounds simple enough, right? Now, let's look at how to clean your white granite sink the right way:
Hot (but not boiling), soapy water;
Soft, non-abrasive cloths;
50/50 solution of hot water and vinegar.
And that's about it. To get the best results, apply a bit of hot water and use a soft cloth to wipe the surfaces after each use. This way, you will prevent water spots and discolouration from ever making an appearance. If the stains have already formed, use a nylon brush and apply the 50/50 solution listed above. Then, rinse and dry the surface as soon as the stain is gone. Your composite sink is now stain-free and shining.
Pro tip from Star Domestic Cleaners London: Pay extra attention to the areas where your worktops join the sink to remove hidden dirt deposits. Don't forget to wash and dry the undermounts and the areas under overhangs as well.
The wrong way to clean your white composite sink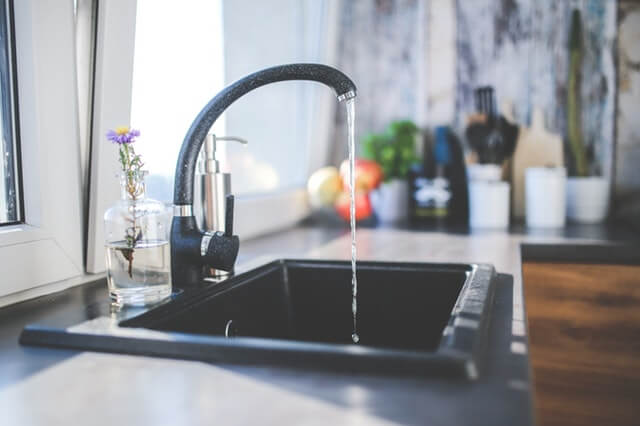 Now that we've covered how to clean a granite composite sink by the book, it's time to take a brief look at what you should not do under any circumstance when faced with this chore. For starters, never use acidic or abrasive household cleaners as they will significantly damage the surface and make it appear more "blurry". Using strong chemicals can even do harm to the waste kit itself!
Here is a short list of the remaining things you should never, ever use when cleaning a composite sink:
Undiluted or diluted bleach;
Ammonia or spray cleaners;
Wire brushes and pads;
Nail varnish;
Oven cleaners of any kind;
Drain cleaning products.
Leaving wet cloths or sponges on the sink's surface for prolonged periods of time is another thing we all often do, which can leave nasty spots on your granite or ceramic sink. Many will also rarely bother picking up stray hairs left by steel wool pads, which will quickly rust if left unattended. Placing heated pans or pots on your sink or dragging heavy cookware directly on top of the surfaces will also spell bad news. Dropping all of these habits will tremendously extend the life of your sink.
How to deal with scratches and resilient stains
Scratches and stains do happen, no matter how hard we try to prevent their existence. But that doesn't mean that you shouldn't do anything about it. If you're dealing with limescale, then simply dry your sink after each and every use. Should you notice any scratches, the best course of action is to buy a sink protector – a rubber, plastic, or metal cover that is placed at the bottom of your sink and one that will safeguard the surface from any accidental scratches or dents.
If vinegar is powerless against the stains you have encountered, look for non-abrasive cleaning alternatives that contain no more than 5% bleach. Another option is to cover your entire sink with a cleaning cream and to slightly brush its surface with a nylon scrubbing pad. Always give your sink a good rinse after you're done and only consider such treatments if you're out of options as the prolonged use of cleaning products can cause permanent damage to your sink.

At Domestic Cleaners, we know that when it comes to cleaning dirty ovens professionally, most people simply forget that scrubbing, removing grease and build-ups. But using natural cleaning solutions like lemon is one of many natural and eco-friendly alternatives to detergents. To clean your oven good enough and still avoid dangerous chemicals that are commonly […]
READ

Cleaning boiler tubes, maintenance, and care are the best way to get the most out of your unit by preventing overdrive and preserving the piping system. Fewer deposits mean healthier pipes that won't threaten to leak, burst, or further contaminate your heating infrastructure. The OFTEC, or Oil Fire Technical Association, as well as gas-fired boiler […]
READ