Single oven + Hob + Extractor = only £75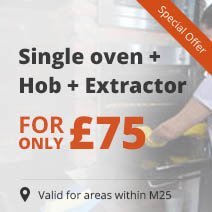 Get this kitchen combo and we will clean your single oven, hob and extractor for only £75!
T&C and minimum charges apply:
The deal is valid for areas within M25
Cannot be combined with any other deals and promotions
Fill in your details in the form below and we will get in touch with you shortly. If you have any additional questions or just want to request a deal over the phone, call us on 020 3404 6962.