How to Clean an Apartment Before Moving Out: Expert Tips

You found a new place, notified your landlord about the move, cancelled all your subscriptions, talked to your utility providers, packed your stuff, and left the rest to the movers. Now, all that remains before you turn the page is to clean the property you used to call home. Simple, right?
And that's when most tenants realise just how much they underestimated this task. Cleaning a property to perfection, especially a house, isn't easy. But even if you think you did an outstanding job, your landlord can still end up denying your deposit because you've missed a few tricky spots.
As we, at Star Domestic Cleaners, provide tenancy cleaning services, we know how and what should be cleaned in your apartment, so you get your tenancy deposit back or have a property ready to astonish any potential buyer. At least, that's what's on the job description of professional cleaners!

Whatever your reasons may be, you need to clean your apartment thoroughly, following the right cleaning checklist. Here is ours. It covers all areas and nitty places that should be sparkle-clean during a move in or move out process.
Plan Apartment Cleaning
Going straight to cleaning might sound like a good idea, but having to go back and clean any area you missed will extend this tiresome task longer than if you plan beforehand and follow a step-by-step checklist.
See what your tenancy agreement states about the state you should leave your apartment in;

Make sure any belongings, luggage or other items are moved or stored somewhere where they won't be on the way of the cleaning;

Prepare all the equipment, supplies, and your favourite music playlist to go through this process like a true hero;

Think of whether there is anything you need to repair or fix, which will require supplies and DIY skills, such as filling holes in the wall, fixing a door handle or a piece of furniture;

Think of how much time the cleaning will take you. Depending on the size of your apartment, that may vary from a few hours to a day or two;

Include which areas and rooms you'll clean first and which last. High-traffic areas should be left for last so you don't have to re-clean them at the end;

Write each area, furniture or surface that we'll list below and applies to your apartment and begin cleaning.
What to Clean in your Bedroom when Moving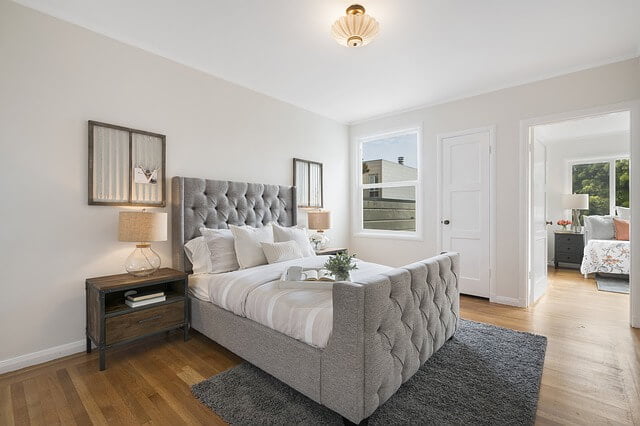 As the bedroom will not be visited often during the last days of the moving, begin your cleaning there:
Hoover and wipe all dust from all areas including those hard to reach spots such as behind and under the bed, wardrobe, nightstand, desk and other furniture;

Dust and clean the windows, blinders, curtains, curtain rails, door frames, light fittings, picture frames etc. Careful with washing dry clean curtains only.

Remove any fingerprints or other stains on the mirrors, doors, window sills, handles and other shiny or reflective surfaces and decoration;

Look for cobwebs and remove them, every inch of your apartment should be spotless;
Pro tip: Liberate Windows from Smudges and Dust
Grab a bucket with soapy water, since you can expect lots of hidden dirt to reveal its true, messy colours. You should also wipe the window sills and their underside area to ensure that your windows pass the "finger swipe" test.
Inspect all exterior areas
If you have a garage, a big terrace or balcony or any other exterior area that you are responsible for, make sure to:
Throw out any garbage and unnecessary items;

Check for any needed repairs, stains on walls and floors and wipe everything thoroughly;

Carefully

clean each type of outdoor furniture

you have.
Pro tip: Organise the Outdoor Space
If you have a yard or overgrown garden, it's imperative that you make it look as good as prior to your landlord's inspection. If you added chimes, bird feeders or other decorations, consider taking them with you since your landlord might fine you for leaving the clutter behind. You should also clean the outdoor furniture, at least the dirtiest pieces.
Cutting the grass and pulling pesky weeds that may have cropped up should also be high on your to-do list. Collecting decaying leaves, spraying the deck down, and brooming the area are a few extra things you can do to leave your landlord pleasantly surprised.
How to Clean Your Dining & Living Room when Moving
Similar to your bedroom, all floors, furniture, windows and other surfaces must be hoovered, dusted and wiped.
Check all drawers and clean inside each one;

Dust and wipe your upholstery and inspect for any stains you need to clean;

Open any foldable furniture and clean all the dust;

Mop hard floors and vacuum all carpets and rugs;

Take care of any stains on your carpets or upholstery. Depending on the fabric of each, there are different methods and supplies used. Find out

how to take care of the 5 most common carpet stains;

If you're unsure how to clean a specific stain, you can always book a

professional carpet

or

upholstery cleaning;

Check for skid marks, cobwebs, wall stains, fingerprints and clean them;
Pro tip: Take Care of Dusty Carpet Corners
If small portions of your carpets were previously trapped beneath furniture, it's likely that you've never disturbed the dust there up until now. So, how do you deal with dirt and grime build-ups that have been sitting there ever since the beginning of your tenancy (if not earlier)?
Well, one way to do this is to use a slightly damp cloth and meticulously wipe the dirt away. If your carpet is made of non-water-resistant fabric, be on the safe side and set your vacuum cleaner on the highest setting to unstack the dust and grime hiding deep within your rug's fibres.
How to Clean the Bathroom During an End of Tenancy Clean
Your bathroom is the most humid place, making it susceptible to mould, mildew, and get rid of a damp smell can be a nightmare. Also, limescale, soap scum or even rust makes the bathroom one of the least desired places you'd want to clean.
Clean the floors and walls;

Use descalers to clean and remove limescale from the bathtub, shower screen, sink tap, drainage, strainer;

Clean drainage from hairs or other debris;

Polish all chrome surfaces;

Wipe all mirrors and shower doors;
How to Clean the Kitchen when Moving:
The kitchen is the most complex area you must clean, there are many things your landlord will inspect, so put some extra effort here.
Clean behind and under all furniture and kitchen appliances
Clean the oven, use vinegar and baking soda to de-grease all dirty areas, then wipe and repeat the process. Resort to our professional oven cleaning services if it has gone ugly. For good old-fashioned Aga cookers read our Aga cleaning guide of tips.
Defrost and clean your fridge and freezer, thoroughly clean the walls, panels, doors inside and out;

Clean all drawers and cupboards

inside and out as well as the bottom and top

Clean all tiles, granite, metal and rubber surfaces in the kitchen;

Remove limescale from the tap, drainage, tea and coffee machines by using baking soda and white vinegar;

Clean and wipe soap dispenser, rubbish bins;

Remove and clean any food and dirt leftovers and deposit;

Clean the dishwasher, change the filters if needed;

Clean any other kitchen appliances such as toasters, fryers, mixers etc. Remove all mildew, grime and other debris;

Wipe and polish all surfaces, drying and shining them properly;
Pro tip: Descale the Kitchen Sink
When cleaning the kitchen, we usually rinse all dirty surfaces and sponges in the sink, but forget to do the same with the sink. If it covers the walls of your sink in gunk and your faucets are rather greyish in appearance, then you must don your rubber gloves and get down to work.
Use a bit of liquid soap, a soft cloth, and warm water to wipe all grime from the faucets, drain, and the sink's exterior away. You can also use a soft toothbrush to polish the edges of the sink. If by that point the stains haven't already raised the white flag, use the good old baking soda and lemon juice formula and carefully scrub them into the soiled areas, then rinse away.
How to Deep clean Stairs, Hallway & Corridors
When cleaning those areas during your end of tenancy cleaning, make sure to pay extra attention to the high-traffic areas and any stains you might usually miss:
Dust and hoover all carpets and rugs;

Mop all hard floor surfaces;

Wipe the dust of all skirting boards, cupboards, chandeliers, picture frames, hangers;

Clean wardrobes, cupboards and other furniture inside, beneath, behind and on top;

Remove any stains from the carpets and other cloth materials;

Wipe any cobwebs, inspect each corner carefully.
Pro tip: Deal with Stains & Holes on Walls
Nails. Hooks. Skidmarks.
After already moving all your paintings and family photos to your new nest, what used to be your walls may now look more like the landscape after an epic battle. This, however, can be easily fixed with a bit of putty, a putty knife, and a small painting brush.
If you are facing skid marks, spilt coffee stains, or just accumulated dust that has been hiding behind the furniture all this time, you can try out any of the eraser-like products on the market. These contain melamine foam which, combined with water, can dissolve almost any stains.
Final Cleaning Tips for Your Apartment:
Baking soda and white vinegar are your best, eco-friendly home detergents you can use to clean a variety of surfaces and stains. Use them to your advantage;

When you're unsure of the fabric a rug, carpet or upholstery is made of, try cleaning an invisible area and see how the fabric is affected, before commencing to clean the whole surface.

You can always call for professional help if there's no time for cleaning before a move.
Failing to handle proper cleaning will likely result in unpleasant deposit deductions, so plan in advance, and clean.

Contact us for professional help.

At Domestic Cleaners, we know that when it comes to cleaning dirty ovens professionally, most people simply forget that scrubbing, removing grease and build-ups. But using natural cleaning solutions like lemon is one of many natural and eco-friendly alternatives to detergents. To clean your oven good enough and still avoid dangerous chemicals that are commonly […]
READ

Cleaning boiler tubes, maintenance, and care are the best way to get the most out of your unit by preventing overdrive and preserving the piping system. Fewer deposits mean healthier pipes that won't threaten to leak, burst, or further contaminate your heating infrastructure. The OFTEC, or Oil Fire Technical Association, as well as gas-fired boiler […]
READ