How to Clean an Old Aga Range Cooker Fast & Easy

Keeping your old Aga clean is important – least of all because they last for generations. A dirty aged Aga is unhygienic and potentially hazardous as food stains can cause food to taste unpleasant and even cause the oven to smoke and burst into flames.
The handful of helpful tips from the Star Domestic Cleaners oven cleaning team below will help you outline how to keep your Aga clean and hygienic. It will require a bit of time, a few specialised items and a bit of elbow grease!

Tips for Regular Cleaning of Your Old & Loyal Aga
A handy tip for regular maintenance is to wipe up the spills after each cooking session using a wet, soapy cloth, especially for acidic food items like orange juice which can cause bad stains if left to solidify and effectively baked on to your cooker's surface.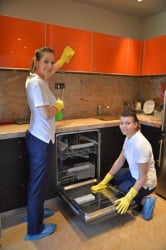 Even with this regular cleaning, it is recommended that roughly once a year depending on usage you or a professional company such as Star Domestic Cleaners in London to perform a deep clean of your Aga to remove more stubborn burnt on stains.
Keep an eye at the special deals and discounts on single and combined cleaning services. As a reputable London cleaning company, our cleaning prices, reputation and testimonials are absolutely fantastic.
Give us a call or contact us online.
How to Deep Clean your Aged Range Cooker
If you clean your old Aga range cooker yourself, it will take a few hours and some effort, but we are the sure the results will be worthwhile to avoid the various hazards dirty ovens pose and even reduce your energy bills in the long term.
You will need the following items to clean your cooker, which you can purchase separately or as part of a specialist Aga cleaning kit.
We recommended to use a scraper with interchangeable heavy duty blades. However, beware cheap scrapers with thin blades that can snap and irreversibly damage your enamel.
These are the recommended components for cleaning your Aga range cooker:
Steel wool ball;
Astonish cleaning paste;
Microfibre cloth;
Sponge scourer;
Safety goggles;
Vacuum cleaner;
Wiping up cloth.
Enamel is very hard-wearing so don't worry about scraping it hard with either the scourer or the blade.
Hot or Cold?…
We would recommend cleaning the oven cold, but a hot clean can be done as a less intensive clean.
To cool your Aga down, simply turn off your oven before you go to bed, leave the doors and lids open and put large pans of cold water on the hobs to cool the ovens right down.
It will be ready to clean in the morning, and if cleaned before lunch could even be ready to cook again in the evening. Maybe best not to rely too much on it is up to full temperature so have your favourite takeaway on standby!
If your unit is incredibly dirty, there will be hard-to-scrape areas such as in between your or under your hotplates rings. Proper motivation and steady persistence will surely prove to work but in case you give up on details, just do your best and move forward. Worst-case scenario, consider new cooker to aide your cooking excellence, click here. It is usually Aga cleaners older than 20 years that will give you a hard time with cleaning.
Cold Cooker? You're Ready to Start
Once the cooker cools of, you should:
Take the scraper and carefully put a new blade into the end and secure it in place.
Remove the hotplate expansion rings from around the hotplates (lever up with a screwdriver if necessary) and remove the oven doors by lifting them straight up extremely carefully. Place the rings enamel-side up on a soft towel.
Wearing safety goggles place the blade flat against the enamel at the front between the hotplates and scrape slowly towards the hotplate. Use as much pressure as you need. Work your way around all flat enamel on the hob, lid rims, front and doors. It's normal to snap a few scrapers/blades so make sure you have plenty of spares!
Vacuum or brush up after the work. There's no point having a clean cooker if the rest of your kitchen is filthy! Check our guide to help you clean your kitchen cabinets neat and easy.
Take your sponge scourer and get plenty of warm water on it. Use it to pick up your oven cleaning paste and spread it around the enamel surfaces of your range cooker. To stop your whole oven being drenched it's best to clean each section individually.
Now take your wire wool and scrub the oven cleaning paste around the enamel parts of your range cooker. Some areas will need a less effort if it's just burnt-on food but years' old grease will need some more elbow grease!
Wipe clean, check your work and repeat step 6 until the worst stains are removed.
When you have finished, rinse the oven cleaning paste thoroughly from the cooker and wipe clean. If you're hygiene-savvy, you could also do an extra wipe with a bit of vinegar to further fresh your kitchen and home.
The last step is to use your microfiber cloth to polish the enamel. If the cloth picks up any muck just rinse well under hot water, wring thoroughly, and continue until the surfaces are clean of any streaky marks.
Sit back and admire your shiny Aga range cooker (you can turn it back on now!)
These cleaning tips are used by the Blake & Bull Aga cleaning team for over ten years, helping to restore Aga and Rayburn ovens to their former glory, so pull your sleeves and get down to business.

Contact us for professional help.

At Domestic Cleaners, we know that when it comes to cleaning dirty ovens professionally, most people simply forget that scrubbing, removing grease and build-ups. But using natural cleaning solutions like lemon is one of many natural and eco-friendly alternatives to detergents. To clean your oven good enough and still avoid dangerous chemicals that are commonly […]
READ

Cleaning boiler tubes, maintenance, and care are the best way to get the most out of your unit by preventing overdrive and preserving the piping system. Fewer deposits mean healthier pipes that won't threaten to leak, burst, or further contaminate your heating infrastructure. The OFTEC, or Oil Fire Technical Association, as well as gas-fired boiler […]
READ