The countless completed cleaning jobs and the solid experience gained in London over the years make the cleaning services provided by Star Domestic Cleaners attractive and reliable. Our formula for success is based on taking the right management decisions and employing only well-trained, professional cleaners. Our London cleaning company will successfully complete even the most demanding jobs that customers present us with.
BENEFITS OF CHOOSING US
Same-day service can be arranged
We can meet all your hygiene requirements
Available weekends and bank holidays (no extra charges)
Specialised cleaning detergents and high-end equipment
Professionally trained and dedicated cleaners
Insured provider of London cleaning services

The Cleaning Company In London That Makes Life Easier
Probably the most important benefit of all is all the extra free time you'll have from now on. 
All professional cleaners that we work with are completely dedicated to bring you excellent results and to exceed your expectations. After all, what we aim for is your complete satisfaction with the services you get. So if you have any questions or any specific requests, please let us know and we'll see what we can do.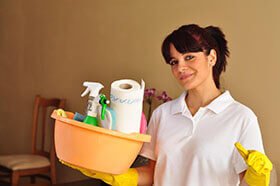 Now you can forget about the tiresome household cleaning chores. Use your free time in more productive and pleasant ways by taking advantage of our convenient and fully customisable cleaning services in London.
Just contact us today and let's have a chat about how we can improve your lifestyle. Surely we will be able to meet all your demands – you will be happy to learn that our services are fully customisable and they can easily fit your agenda.
A Complete Range of Cleaning Services
Now you can spend more time with your family and friends. Or you can simply focus on your work. And make sure to scratch off all those tedious home chores from your to-do list. Just take a look at our list of cleaning services available in the capital and you will surely find the right solution – here are a few examples.
Tenancy Cleaning
Window Cleaning
Regular Domestic Cleaning
One-Off Cleaning
Oven Cleaning
Rug & Carpet Cleaning
And here you can take a look at some more detailed descriptions of some of our signature services.
Your property in London can be visited by a cleaner (or a team of cleaners depending on the needs of your household) on a weekly, fortnightly or monthly basis. Please note that this service DOES NOT include any cleaning detergent and equipment provided by us. The cleaners will work with sanitation products and cleaning tools that you have present at the property.
With regular visitations to your property, the place will always be in a relatively clean and presentable state. This will allow the cleaners to focus on areas of your home that need most attention.
Other than this, the cleaners work by following specific check-lists with items and areas of the property that need to be cleaned regularly. This way we ensure that your place stays in a perpetually presentable state.
This service is suitable for tenants who aim to win their security deposits back, and landlords/leasing agents who wish to impress their prospects. It is also often booked when a property is being sold. In all cases, a team of at least two cleaners shows up, fully equipped and ready to provide a comprehensive cleaning session.
Another thing to note is that this service is not limited in time. When the cleaners come, they will follow check-lists with the most important areas of the property that need to be cleaned. They won't leave until the property is cleaned to professional standards. Another advantage you get with Star Domestic Cleaners London is that we give you a 72-hour guarantee. This means that we can send the team back for a free re-clean in case the initial service failed in some aspect.
An important requirement for the end of tenancy cleaning service is the lack of any personal belongings at the property so you need to pack in advance before the cleaners arrive. This does not include furniture and household appliances.
We provide an advanced and highly effective professional carpet cleaning that is suitable for pretty much all types of textile floor coverings. When the technician arrives, he will carefully examine your carpets and determine what would be the best way to clean them based on the material they are made of and their condition. Usually, any noticeable stains are pretreated with specialised detergents. And there are two main cleaning methods that the specialists usually resort to.
Dry Carpet Cleaning – This procedure is suitable for those delicate pieces that can't withstand high temperatures and moisture. A cleaning powder is spread all over the item and rubbed in with rotating brushes. Then the powder (which has connected with the unsanitary agents) is vacuum-cleaned. This is an effective way to clean and deodorise a carpet or a rug without risking shrinkage and discolouration.
Hot Water Extraction – Your carpet will be submitted to probably the most effective cleaning method there is. A high-performance machine will inject hot water directly between the fibres of the item. This will dislodge any residing filth and accumulated dust. At the same time, a suction attachment will be removing the moisture (along with the dislodged filth) almost simultaneously. At the end, you are left with a slightly damp carpet that is perfectly clean and deodorised. The piece should air-dry on its own in a few hours but we can provide you with industrial air-movers to speed up the process if you wish.
How to Book us?
Call us at 02034046962
Get a free estimate through the contact form
Try the instant chat feature available on the bottom right of this page
What Makes Our Cleaning Services The Better Choice?
We have over a decade of professional experience and the cleaners are dedicated, seasoned professionals who work with great diligence. Also, we make sure to stay on top of the latest innovation in our industry to ensure that the services you get are of superb quality.
If you decide to book cleaning for your London home from us, you select a company that has invested a lot of time and resources to provide you with a cleaning service you will be looking forward to having again.