Your Guide on How to Clear Up an Overgrown Garden

If you own a garden, you definitely know that exciting feeling when your plants, flowers, and shrubs grow and bloom. But then things get a little out of hand, rain comes in, and suddenly the lilac is too tall, the shrubs are too thick, and the weeds are out of control.
At Star Domestic Cleaners we received this question quite a few times but there's no need to panic, though, because we have put together this guide on how to clear up an overgrown garden!

Basic Tips on How to Clear up an Overgrown Garden
Let's start with some tips on how to handle this daunting task.
Because remember, if you have the right attitude, mindset, and equipment, you'll find that half the work is already done.
Work Smart, Not Hard
This can mean several things.
First of all, never work while the sun is very high up in the sky like between 12 and three in the afternoon. This is the absolute hottest part of the day and you will get tired and maybe even feel bad very quickly.
Work at a very relaxed pace. There's no need to hurry, so you can handle it for only a few hours every day.
Tip – instead of focusing on a square area and identifying and pulling out all the weeds, focus on a single weed and get it done in one go.
If the ground is wet, it will be easier and faster to pull out the weeds, so wait until after it has rained. Or irrigate the soil yourself with a hose.
Buy the Proper Equipment
Don't fool yourself that you can do it with a small hand cultivator. You will only tire yourself and have backaches after you're done. Plus, it will take a lot longer. Buy a garden fork and a trowel and gloves.
Don't forget sunblock, water, and a hat.
Don't be Superficial
Start in a corner of your garden and move as slowly as you can. The reason is twofold.
First, you will not get tired or be sore the next day.
Second, it will allow you to be thorough. This means pulling out the entire root of the weed, so you can make sure it does not spruce back up in a few weeks.
Pick up Rubbish First
Evidently, this doesn't mean rubbish, says Cleaner Confessions. It means all the things you might not have noticed so far, but that will encumber you as you weed.
Examples include broken pottery, stones, sticks, garden items, and so on.
Mow Your Lawn
If you have one, this is the first step before your work can even start.
Freshly cut grass will allow you to see a lot better what you need to do. Plus, it will encourage you to work more!
Clean Conservatories & Sheds
Do you have a conservatory or shed in need of some windows cleaning? Book our window cleaning service, specialised in cleaning windows both inside and out and enjoy professional results from cleaners of a professional job description.
Take Care of Your Patio
Your deck is where you'd likely spend most of your time and putting it to order is a must. Choose the type of flooring wisely for it may require specialised cleaning as rugs do.
How to Clear up an Overgrown Garden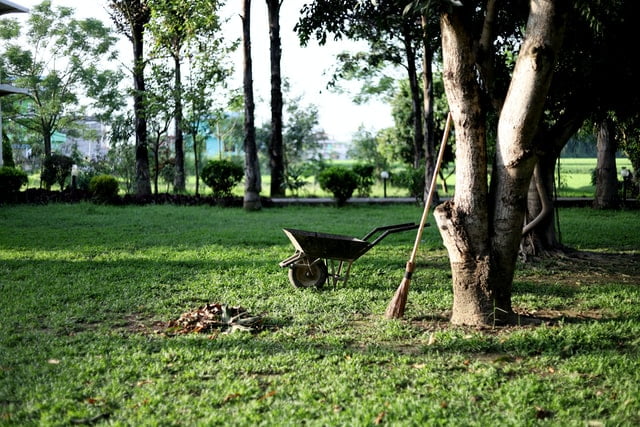 Now that we've looked at the basics, and you know what to bring and how to get ready, it's time to see the battle plans. Let's go into further detail about the many ways in which you can relieve your beautiful garden of weeds and debris you definitely don't need.
Further inspiration: How to Motivate Your Child to Do Chores?
Make Compost out of the Weeds
This is for all of you out there who can afford the luxury of waiting one or two more seasons. If so, using a brush cutter, trim the entire area and then cover it with cardboard. Leave it to rot for an entire year and then turn it over. You will notice that the cardboard plus weeds have made fantastic compost.
However, if you cannot wait, then trim everything down and pull out all the weeds by their roots. Turn over the soil. After you're done, use a flame gun for killing weeds to make sure they won't grow back.
It might sound very tempting to use a tiller to rotovate, but we do not advise Brits to that. Quitch grass, ground elder, mares tails, and dandelions usually grow among the weeds, and you won't want to pull those out.
Start with a Quick Scan
Before you get to the actual cutting and pulling, you will need to do a quick visual inspection of your space. This is the smart way of learning how to clear up an overgrown garden.
That's because always start with the weeds that are now past their blooming stage and are ready to seed. Get to them before they can spread. Pry them up, grab them right below the crown and try to remove them entirely.
Next, after the seeders, come the huge weeds in bloom. The word of the day is 'big.' It will clear up a lot of space and make you feel you're doing a good job. Which you are!
Continue with the permanent weeds. Examples include poison ivy, shrub seedlings, and brambles.
This is the moment to gather up everything you've pulled so far and throw it out. Re-hydrate yourself and the plants you're keeping and which you have now disturbed and let's soldier on!
Prioritising Is Your Friend
We've come to the plants and flowers portion of our guide on how to clear up an overgrown garden. That's because they are next on the list.
What exactly are you going to save from your garden?
Choose and weed them, then give them some mulch.
Clear the soil as deep as you can because even if you have removed the weeds, there may still be some seeds left in the ground. This will surely make the weeds grow back in no time.
Replant and rearrange your favourite flowers and vegetables right now since you've got your hands dirty anyway, so to say.
The last step of this part is to parcel up any remaining portion of the garden so that you can weed it one at a time. Think about the time when you parcel up. How much time will you have to do one parcel per day?
Do not forget about your garden room! Consider it a parcel on its own because you will need to pull out all the weeds that have grown around it!
Further read: Preparing for the Summer: How to Properly Take Care of Your Outdoor Furniture?
Prune the Trees & Shrubs
Since we've fought and conquered the ground floor of your garden, it's time to move a step up to the shrubbery. If shrubs and bushes left to grow spun out of control, they will become unhealthy and look unaesthetic.
Examples include lilac, hydrangeas, honeysuckle, spirea, or forsythia. Start pruning them early in the spring when you can cut them as low as you want. This will give them a great chance to rejuvenate and grow even more beautiful.
But please keep in mind that you need to follow the guidelines for each plant. We can treat not all in the same way.
Witch hazel or viburnum, for example, can only be pruned in stages over three years. Therefore, you can call in a specialist to help you with this part of the process.
Define Clear Lines in Your Garden
It would be a shame if all of this hard work and energy you've put in would go unnoticed, wouldn't it? But sometimes that can happen. For example, even if you don't have weeds anymore, your plants and flowers can still grow into each other, making the space look messy and unkempt.
A solution to this predicament would be to put an emphasis on the different areas where your plants grow by creating edges.
Trim the grass back as much as you can.
Separate the plants from the soil using pebbles or mulch.
Buy reddish-brown mulch because it's aesthetically pleasing. Its colour comes in contrast with the green of the grass and leaves, making them stand out.
Still, if you have a special design in mind for your garden and don't want to see it get lost, go for richer shades of mulch that won't spoil the natural look. It will merely highlight the borders organically.
My Plants Are Doing Too Well?
Yes, even though it's a paradox, this is a common problem which most gardeners come across. You've taken care of them very well indeed, and now they are overgrowing and spreading into areas that are designed for other plants and flowers. Then it's time to get them in line, pun intended.
The simple solution you have is to just cut them a bit. Prune some leaves or branches. You can even cut some flowers if they are in bloom and are too many. Enjoy them in a centrepiece on your dining room table.
If this is not an option for you, pull them up, so they don't lean over other plants. This is a good idea for perennial plants that have a tendency to multiply a lot of seeing as they come back over two years. Try to perform these tasks in autumn because this is when their leaves are naturally dying.
Some other gardeners report issues like roots having clumped together. This is a bit more serious, and it means that you will have to dig them up and get rid of the ones that you cannot keep. Replant only the plants you need.
Once you're ready, you will also need to apply a few strategies to ensure this doesn't happen again. If you have small plants, you can easily replant them from your garden soil into ornamental planters.
With shrubs, maybe you will be happy with them overgrowing, but just not in that place? So, if you have a lilac tree, for example, you can dig it out and replant it next to your garden room. Once there it can overgrow at will and provide you with shade while you relax with your friends.
Tidying Messy Gardens, Conclusion
So this is the guide on how to clear up an overgrown garden. There is a lot of work to be done, that's for sure, but it will be very rewarding once it's over. Keeping a garden planner and tracking your planting, watering and pruning schedule can help you avoid confusion and overgrowth.
Plus, gardening is relaxing and even therapeutic. One thing we didn't tackle is how do you keep your garden in pristine condition?
That's because we want you to give us some hints in the comments below!

Contact us for professional help.
A general rule of thumb for dry clean only curtains is to only dry clean them. However, there are instances when getting your curtains to the dry cleaners is not practical whether it be for price or timing reasons.
READ

Keeping your old Aga clean is important – least of all because they last for generations. A dirty aged Aga is unhygienic and potentially hazardous as food stains can cause food to taste unpleasant and even cause the oven to smoke and burst into flames.
READ