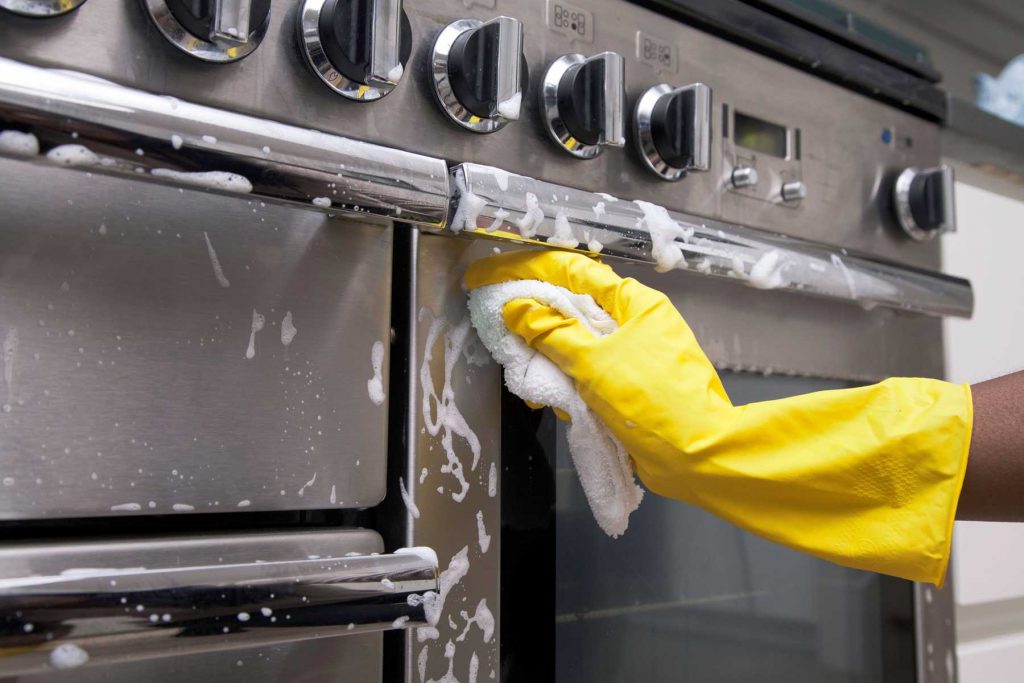 Our cooker cleaning services in Putney will clean every oven thoroughly in order to achieve the best possible results. We will remove anything that can be removed and will treat heat it; meanwhile, the oven is heated up enough for our special eco-friendly solution to be applied, so that we can clean your oven both inside and outside. This guarantees the removal of all burnt food and grease, this will help your oven become more energy-efficient and cook healthier food.
Our oven cleaning process in Putney
Our team will remove everything that can physically come out of the oven, including side racks and shelves, back panel and fan and on some ovens if possible the side panels as well. Then everything will be placed in our dip tank that contains our special solution.
Only then our team will start working through the built-up dirt and grease, that is in the oven, our experts will use special tools and the most suitable solution for your oven to clean it. After they manually wipe and de-grease the inside of the oven, it will be buffed and further de-carbonizing agents applied to guarantee it's perfectly clean.
Every door joint is carefully cleaned with de-greasing detergent and both sides of the glass door are cleaned of carbon and grease build-up, after we are done you can perfectly see through it. Each part is carefully re-attached to the oven; the front of the oven will be de-greased and polished, leaving it in a showroom condition.

You can easily take advantage of our services in Putney today, give us a call at 020 3404 6962, we have friendly customer representatives that are ready to answer all of your questions, guide you through the booking process and help you pick the best services for your needs, don't forget to ask about your free, no-obligation quote. Keep in mind our lines are open 24/7, so it doesn't matter how hectic your schedule is, our team is ready to help – whether it's morning, night or weekends – we got your back.